JOB ROLES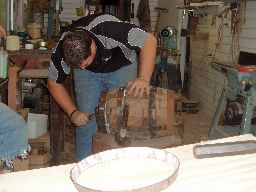 Coopering is a traditional and ancient craft based on the production of wooden barrels, vats and casks for use in wine making.  Coopers make, assemble and repair wooden casks, barrels, vats, buckets and tubs for holding wet or dry goods. 

Coopers may perform the following tasks: 
• work out the job requirements from specifications 
• select wood and cut, shape, smooth and taper boards to form staves (the wooden boards of the barrels), or use prepared wooden parts 
• assemble staves into rough shapes inside temporary hoops, using hammers and hoop drivers 
• apply hot water or steam to staves to make them pliable 
• cut, bend and rivet metal strips or wooden pieces to form hoops and fit them in position around barrels or casks, drawing staves tightly together 
• draw ends of staves together using trussing machines, cut grooves inside rims of staves, make up heads and fit into grooves 
• smooth surfaces 
• repair damaged staves by removing and replacing them 
• check for leaks and insert sealants. 


EMPLOYMENT PROSPECTS
Coopers work in cooperages and wineries. Coopers are also often self-employed. It is a small occupation. However, with the wine industry exhibiting substantial growth, employment prospects for coopers are expected to be good.

The Australian Coopering sub-sector comprises very small businesses, primarily operating in South Australia.  There are approximately 20 enterprises nationally employing about 60 people. Manufacture of new barrels used principally in the wine industry is the largest employer of tradesmen.  Work involves manufacturing three standard size barrels (225, 300 and 500 litre capacity) using modern machinery and equipment.  These coopers may also make larger barrels (up to 4,500 litre capacity) and also straight sided tanks and vats.  Repair, service and reconditioning of barrels is a highly specialised activity, with just ten people nationally doing this type of work.  A handful of coopers also make small decorative kegs, usually sold to private individuals one or two at a time.
Most employment opportunities are in the wine growing regions of SA, WA, NSW and Victoria.