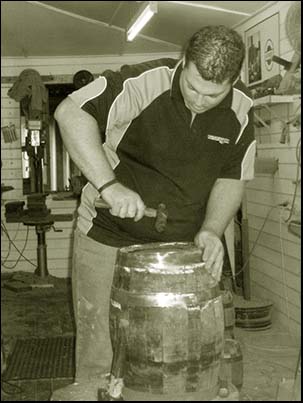 Formally Schmeider's Cooperage Complex,
Bundy Kegs now operates from the same building that has become famous for making American White Oak casks, suitable for holding spirits and fortified wines. Schmeider's Cooperage began in 1982 and was operated by Dave and Pam Schmeider. Over this time, Dave trained many apprentices and it is now this former employee who owns the business and continues the tradition of Coopering.
Justin Gillett is using both traditional and modern methods to produce a quality oak barrel that will give its owner a lifetime of enjoyment. The casks are produced from old wine & spirit casks that are selvedge from all over the country, and then they are carefully re-worked to produce the high quality product that Bundy Kegs are known for.
Visitors are welcome to the complex where they can see Justin working on their casks and also view the range of accessories that are available for their barrels.